Nepal has four climate seasons, the April month is the perfect time to visit Annapurna Base Camp (or Annapurna base camp trek in April) this trek route in the Annapurna region is not difficult to compare another high altitude trek in the Everest trek region. The ABC trek is suitable for all kinds of travelers, with the maximum high altitude at 4,130m 13,549 feet.
Annapurna Base Camp Trek in April, during the spring season: March, April and May the meadows and forest will be in full bloom with riots of colors of wildflowers specially rhododendron comes in great varieties from bush to tall trees. Regarding my previous experience from the ABC trek in April highly recommend this month to start the Annapurna Base Camp Trek for your life amazing trekking holiday experience. What the trekkers expect in April in the Annapurna Region Trek (or ABC trek in April), incredible helpful article share through Nepal Spirit in the following.
Weather in April
In April, the climate temperature would be neither much hot nor too cold, the days are quite warm and night with early morning will be chilling as well as shouldn't worry about the rain but you may encounter fresh snow=fall. Your trek will be walking under the crisp sky, across colorful forests, and surrounded by
This month is not for rain, meaning a very good chance to have beautiful weather and can able to see a clear sky with wonderful visibility everywhere along the Annapurna base camp trek in April. The month is just being the transition from the winter season to spring and will be very fresh weather condition and still some major high passes trek route could be covered by snow in Annapurna trek region.
During April Month, the average daytime temperature at lower altitudes is around +20 degrees Celsius during sunshine. The higher you go, the colder it gets. As you ascend over the higher zone above 4,000m would be cold in the evening and morning and approximately the temperature goes 10 degrees Celsius that in depending on the weather condition.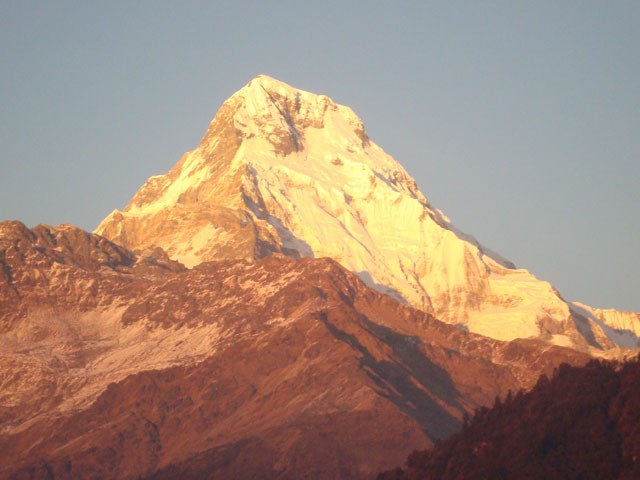 Mt. Himchuli view along with the Annapurna base camp in April
Trip Highlights
Explore beautiful ethnic villages surrounding spring flora-fauna.
Trekking into lovely enchanting rhododendron and pine tree forest with daily amazing views.
Enjoying daily views of snowcapped mountains include 7 the highest Dhaulagiri & 8 the high Manaslu.
Wonderful overnight sleep at Annapurna base camp at 4130m.
Spectacular sunrise and best views of the glacier from ABC.
Natural treatment: A bathing in hot spring at Jhinu.
Enchanting sunrise and innumerable mountains view from Poon Hill.
Explore beautiful city POKHARA before & after the trek.
Scenic bus ride.
Are you planning your Annapurna Base Camp Trek in April? Don't hesitate to contact us to inform us of your requirements; we can help you to make your trip memorable.
How difficult is Annapurna Base Camp Trek in April?
Annapurna base camp trek is not difficult to compare to another trek route in Nepal Himalaya; it is a moderate trekking trail thru tropical Nepalese villages and does not require an advanced physical fitness level. Novice travelers can start this trek to Annapurna trek in April and enjoy the pleasing holiday adventure time with nature paradise in ABC foothill trip.
While April brings a dry, warm, and stable weather condition in the Annapurna region (or Annapurna base camp in April). Adding colors of wildflowers to the gorgeous green hills, affixes joy to the trek. So, there is no risk of any difficulties while trekking in ABC during April month.
If you are following the Ghorepani-Poon Hill trail to ABC, your part of your body gets adapted and acclimatized well with high altitude along the route. Previous experience trekkers can do this trip in short holiday and more easily. On this trek, you will reach the maximum highest elevation of 4,130 meters from the seas level. Some may feel symptoms of altitude sickness but if you trek slowly, maintain hydration and take proper rest you can walk easily to the base of the giant peaks.
Travel Tips
As my previous ABC trek experience please share with you guys the following tips about the Annapurna Base Camp Trek in April do not hesitate to share also your wonderful experiences with others as much as possible share it.
Accommodation and Food
Trekking to Annapurna Base Camp trial in April would be busy. You can find almost similar lodes- teahouse (accommodation) while there are more than 56 lodges along the Annapurna base trail. A few villages also provide fancy hotels such as Ghorepani and Ghandrung and do not forget a good through the best local trek operator manages all standard lodes along the ABC trek period. If you are trekking to Annapurna base camp in April and May you require to make the advance lodges booking because there a very less amount of teahouses after the Chomrung village.
Food: Should not worry much about the food and beverage along the Annapurna Base Camp Trekking can easily find meals thru lodges and beverages at a local restaurant. It is also kind of rules through Annapurna lodges management committee breakfast and dinner must eat at the same lodge-place where you make the overnight sleep. Lunch can eat at different tropical local places, overall we can find Nepali hygienic food, as well as western continental Indian and Chinese food, can able to choose from the food menu.
Beverage: On this trek, you require as much as possible drinks water, carrying a personal water bottle is top needed. Soft drinks, snacks, and beer are available in most tea houses. At least drinks 3-4 letters of water a day to avoid dehydration and altitude sickness and easily can get a bottle of mineral water from the lodges and cost $1-2 dollars for each litter.
Start Your Trek in Early
As per global O'clock in Annapurna Trek Region April month day is short, the night will be longer, while we require to walk every day 5-6 hours before reaching to Annapurna Base Camp and you need also extra time for the daily lunch break, soft drink break if you start your trek every day early after the breakfast as per your ABC trek itinerary you will get enough hours time for exploration even more details which is also top tips for you.
Requirement Permits
While you are planning a trek to Annapurna Base Camp in April, you need to obtain an Annapurna conservation area entry fee and a TIMS card both ABC trek permit you can make in Kathmandu and Pokhara city. Both trek route permit is top necessary without them no one can start your ABC trek.
Annapurna conservation entry costs you NPR 3,000 in USD 26 per person it can be changed in dollars as per daily dollars conversion rate. TIMS costs you NPR 1000 in USD 9 per person it can be also changed in dollars as per daily dollars conversion rate.
ABC Trek Equipment
Trekking equipment is also a major issue before starting your ABC trip if you do not have the following recommended Annapurna base camp trek equipment you can also shop in Kathmandu after arrival in Kathmandu but time is important for lookup it however, visit our Annapurna base camp trekking equipment for your better packing list.
Additional Tips to Annapurna Base Camp Trek in April
While you are planning high altitude zone, the weather climate could change frequently even at Annapurna base camp during the month of April who knows it. As per my previous ABC trek experience, highly advise you all to be prepared and carry the necessary trip equipment for your trek.
Annapurna Base Camp Trek in April would be busy as usual but sometimes lodges- teahouse can be booked after the Comrung villages due to the lack of lodges you may also have to stand in queues for meals. Possible book the accommodation in advance which can be fully prepared by your trek operator Nepal Spirit Adventure Nepal base local experience Trek Company.
Trek to ABC in April, the day is short and night will be a long hour that's why better start your trek right after early morning breakfast. It helps you to reach your destination earlier and you could enjoy your trip.
The cold morning and nights are harder to cope with so pack some warm clothes and other accessories during the trek.
Annapurna Base Camp trek is not harder than Everest Base Camp Trek but there was a problem after the Chumrung villages better you trek with guide and porter. Feel always positive and walk slowly as much as you can make it comfortable. Do not rush and it is not like a day hike.
Drink at least 3-4 litters of water a day and hydrate yourself, the body dehydrates faster as you ascend the higher altitudes. Pack with you some fruit juices or some energy chocolate bar but water can buy from every teahouse or local restaurant.
In cases, you see any symptoms of Altitude Sickness do not hesitate to alert your trek guide of a partner as well as feel terrible headache immediately walk down to the lower altitude zone which is one the best treatment for high altitude sickness and rest till you are fine.
Do not forget to carry with you enough Nepalese rupees cash for the trek because there are no bank-ATM in the ABC trekking route. Public display of affection on not welcomed and wearing revealing dresses will earn you unwanted criticism.
It is rude to click people's pictures without their permission ask them first if you wish to click their picture on your camera.
Our Favorite April Itineraries
Annapurna Panorama Trek 9days
Annapurna Sanctuary Trek 11days
9days Annapurna Hot Spring Trek
Annapurna Circuit Trek 16days
Final Words
You can never say no when you get an invitation of delightful views of the majestic Himalayan in Nepal while April month is one of the best time visit to Annapurna Base Camp Trek. If you can spare your time to trek in April, you should surely go for it and definitely, this trek will be a lifetime highlight, and happy to share it with others.
Plan your trip to Annapurna Base Camp in April?
Deal with a local specialist who can help organize your trip start now