While you are planning to do the mount Everest Base Camp Trek 2022-2023, We Nepal Spirit Adventure Pvt. Ltd. Highly recommend for all Everest base camp trekking seekers not forget to apply for your EBC trekking insurance is top compulsory. While you are trekking in Khumbu at Everest Base Camp at 5,364m and Kalapatthar at 5,545m things can happen when you are traveling that are out of your control.
The Everest Base Camp TrekInsurance must cover medical issues, helicopter rescue, air ambulance, accidents, or any kind of sickness or injury of the treatment cost. It is the best information to our all Everest base camp trekking booking with us that we do not do Everest base camp trekking insurance, we mean that we do not arrange and sell trekking-travel insurance policy even though there is available some insurance company based in Kathmandu.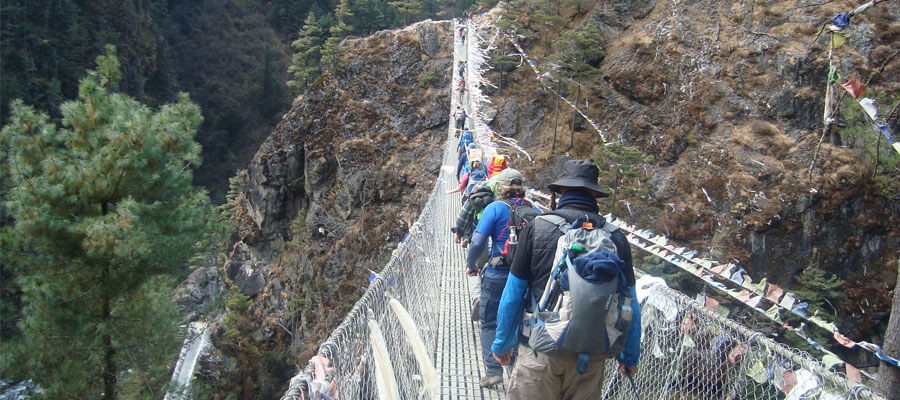 Everest Base Camp Trekkers Crossing Hillary Bridge, Day2 Trek to Namche Bazaar
Before buying your Everest Base Camp Trek Insurance makes sure that your insurance is aware of the Nepal Spirit Adventure Everest Base Camp Trek's Itinerary that you are going to undertake and is agreeable to cover all activities being undertaken during the trip. There are many insurance companies that offer travel insurance through the online base that you can choose from wide trekking in Nepal, Peak Climbing, and Mountaineering expeditions in Nepal, there is always a narrow chance of minor health issues, injuries, and most importantly altitude sickness.
Be confident that you are buying Everest base Camp trek Insurance and it is crucial that you choose an insurance policy that covers the cost of the helicopter rescue from the mountains in case of major accidents and acute mountain sickness (AMS). During such extreme cases of an emergency evacuation, a helicopter service is the only way out from the Everest Base Camp's mountains.
Trekking to Everest base Camp must include a rescue team for both ground evacuation and rescue, this is why we require your Everest base camp trek-travel insurance to cover the cost of helicopter services and evacuation from the Himalayas, it is always better to be safe than sorry.
Before you plan your trip with us, do make sure that your Everest Base Camp Trek and travel insurance covers all the costs mentioned above from a reliable company.
Recommended Travel Insurance Companies
For travels from USA and CANADA
Online Global Health Insurance.
Travelex.
Insure My Trip.com (Online Insurance Aggregator).
Mondial Assistance.
Access America.
HCC Medical Insurance Services.
Good Neighbor Insurance (International Health).
International Health.
Insuremytrip dot com.
Multinational Underwriters.
TIC Travel Insurance Coordinators Ltd.
Travel Assist.
Travel Lite.
For Travelers From England
Specialty Group (UK) Limited.
FirstAssist Services Limited.
Harrison Beaumont.
Buy cheap travel insurance.
For Travellers From EUROPE And SLOVENIA
Assistance CORIS.
Travelers From AUSTRALIA And NEW ZEALAND
Cover-More Travel Insurance.
CGU Insurance Limited.
Travelers From SOUTH AFRICA
Travel Insurance Consultants Pty. Ltd.
DECLARATION: These companies were recommended by our previous travelers and are for recommendation purposes only.