About Kanchenjunga Base Camp Trek
Kanchenjunga Base Camp Trekking Map 2023, 2024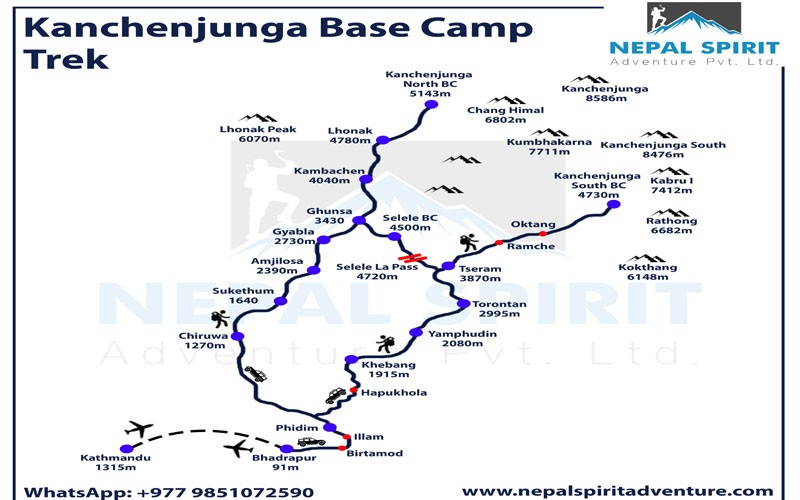 The Kanchenjunga Base Camp Trek Map is a useful pocket guidebook that has been brought on our own approximately well designed by expertise 'IT' this map is simple and clean which helps you before starting the Kanchenjunga Base Camp Trek and it covers both base camps in Kanchenjunga North and south. Another highlight of the map indicated every remote village's height, snow-passes, and third tallest mount Kanchenjunga 8,586m, Kanchenjunga Base Camp 5,143m is also called "Pangpema"
Nepal Spirit Adventure's Kanchenjunga Base Camp Map also provides you with every detail of mountain and peak heights including names which will make your trip informative and more confident to reach everyday camp villages details name. Reading this remote adventure trekking map can help your trip booking with a group joining basis, private guide trek, or solo trek to Both base camps of Kanchenjunga.
Kanchenjunga Base Camp Trek for 2023, 2024 Tea House Lodge Basis
It is a natural gift walking trail for human holiday celebration places, passing beautiful remote mountain villages, people are kind and friendly, and they are also very helpful for every step. Kanchenjunga Base Camp Trek simply can be done through normal lodges and tea-house where you can sleep well after a 6-7 hours walk and can order and eat delicious Nepali, Chinese, and Indian foods. Before this trek route was for camping trek only and required huge main pawer support.
You are heartily welcome to Nepal Spirit Adventure for organizing one of Nepal's most rewarding off-the-beaten Trek to Kanchenjunga Base Camp at (5,143m) from the sea level. It is one of the great Himalayan trails and covers the eastern part of Nepal.
Mount Kanchenjunga is 8,586m the world's third tallest mountain "Kanchenjunga" means in Nepali a crystal clear Himal and is also popularly known as the "Five Treasures of the Great Snow" i.e. Gold, Silver, Precious Stones, Grain and Holy Scriptures which is in reference to the five summits that make up Kanchen Junga.
Previously Kanchenjunga Base Camp Trek was camping only, there are now more affordable teahouse routes that take you past stunning mountain views, ancient forests, prime wildlife habitat, and into the heart of traditional culture and communities can be beautiful highlights of this adventure footpath journey.
Nepal Spirit Adventure welcomes travelers to explore and trek to Mt. Kanchenjunga base camp, an adventure of a lifetime experience around the world's 3rd highest mountain, seldom frequented by other trekkers.
You will get a great opportunity to trek in the complete wilderness away from the mainstream trekking trails in and around remote and isolated mountain villages enriched with old traditions and cultures.
This is the one and only trekking that leads you to visit both base camps of one mountain on this adventurous and scenic walk, leading you into the beautiful alpine forest of tall rhododendron-magnolia-birch-pine and fir tree lines. An amazing place to be with incredible views of the high mountains that surround you on this fascinating Kanchenjunga Base Camp Trekking.
Walk leads through farm villages and town into serene woodlands to reach South Kanchenjunga base camp with Yalung massive glacier this was the original route to the summit of Kanchenjunga as climbed by British Expedition in 1955.
Our next adventure leads to North Kanchenjunga base camp at Pangpema the highest spot of the trekking at 5,143 m high with fantastic views of the massive Kanchenjunga range of mountains and as far as Baruntse and Makalu peaks.
The 28-day circuit trek begins after we fly to Bhadrapur from Kathmandu. The long journey on a less crowded path also rewards us with a unique insight into the rural Nepalese lifestyle of the country's eastern region.
Nepal Spirit Adventure is one of the most trusted local companies in Nepal having worked in tourism since 1998. We make sure your travel in Nepal is special and memorable. We acquire all kinds of legal permits for your travel in the country.
We provide you with a local English-speaking trek guide so that you can enjoy the trip. We get you the best accommodation in the area to make your stay a comfortable one. So, remember us if you are planning trekking and climbing in the Himalayas.