Best Time to Visit Everest Base Camp
In the Everest region, the best time to visit Everest Base Camp depend on the activities you hope to do there. For Everest Base Camp Trek, you should start in spring (March-May) or fall (September to December) both seasons will be one of the best times to visit Everest base camp. Besides the trekking, a helicopter tour can be taken any time the weather is good outside of monsoon season.
If you are prepared for cold temperatures then you could visit the EBC trail in the winter season, you may chance to meet the snowfall. This blog will take you through a seasoned guide to trek to Everest Base Camp in different seasons. You can also consider the other recommendation of the other popular trek in Nepal Himalaya such as Annapurna Base Camp, Annapurna foothill region, and Manaslu Circle trek. Before you plane for the Nepal holiday, you could find very helpful information points to consider when thinking about when visiting Everest Base Camp.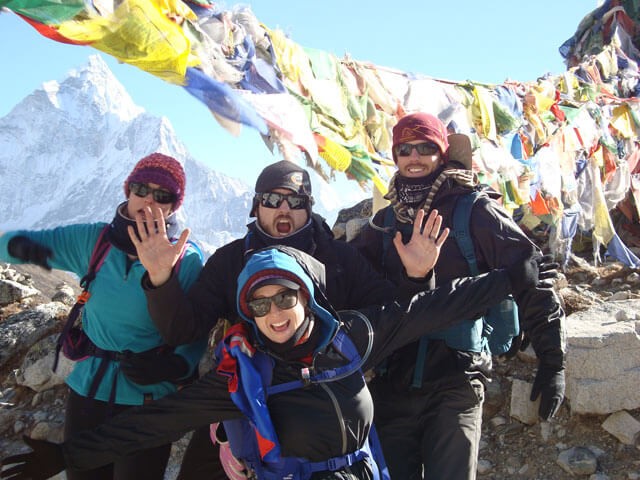 Mt. Nuptse view from Kalapatthar
Weather Condition
The world's highest rooftop Everest Base Camp is very high altitude (5,364m/17,594 feet), foothill walk, and the overland route to reach there is also high. It means that it's never really warm weather in the Everest region, but there is still a dramatic difference in temperature, rainfall, and snowfall throughout the year.
February – May
If you are planning to visit the Everest base camp, March, April, May the spring months are probably the most popular in the Everest region. Journey to EBC you might be caught in the occasional snow showers if you catch the end of the winter season, but weather will be stable and dry ideal for the trek and high altitude peak climbing.
This season offers very reasonable temperatures, clear skies you can able to see such beautiful mountains in Khumbu- Everest region. April – May months are the best for Everest climbing, most Everest summits occur during this time so you will likely come across many climbers, summiteers, and their support crews!
You could visit Everest base camp this month in good condition and foothill routes flanked by flowering rhododendrons, naturally, Sagarmatha national park would be colorful beautiful.
September – November/ December
Nepal has four great fall seasons, September- December months are autumn. The autumn is one of the best times to visit Mt. Everest base camp, region offers excellent weather and outstanding mountain views, the weather is clear and guarantees that you can witness wonderful mountain views and panorama.
This is a gift from nature for all people are wishing to visit EBC in good time an added extra of trekking during this time is the option to choose some other, less well-known routes in the area that still offer amazing views but without the hustle and bustle of the more popular routes, the Gokyo peak panorama trail, EBC Cho la pass is also could be a perfect your trekking holiday example.
December- January/February
Winter: You can visit Everest base camp during the month of last week December- January/February by trekking in cold temperature, the days will be shorter and there is a lot more snow, so you'd need to be well prepared for freezing conditions. But the skies tend to be very clear in winter, meaning excellent mountain views. High altitude big passes trekking trail will be completely closed like EBC three passes trek.
If the cold weather doesn't bother you and you want to avoid the crowds, trekking at this time may be just right for you, Why not even consider a Christmas Everest Base Camp Trek as a festive alternative to the more typical Christmas activities? For your information, the Annapurna panorama trek also could be best during this time.
June – August
The month of June to August is Monsoon season is challenging for visit Everest base camp. In the rainy season, the trails get muddy condition-rainclouds can obscure the mountain views. But temperatures are also warmer at this time, and it rarely rains. If you're well prepared for the rain and don't mind getting a bit wet along the way, trekking in the monsoon can be fine because the higher you go in altitude, the less rain.
The monsoon season is considered off-season in general, which allows you to trek more peacefully with fewer disturbances. Further, the monsoon morning treats you to the most spectacular views of the Himalayas.
You do not need to worry that you have a holiday plan for the Nepal trek during the monsoon then there are a few areas, called rain-shadows that provide good trekking conditions routes to the Annapurna Circuit, Upper Mustang trek, Dolpo trek can be your best list. If trekking is not on your agenda but a helicopter tour to EBC is, these are also best when the weather is clear and predictable.
Plan your trip to Nepal
Customize your trip with help from a local travel specialist.