Everest base camp trek in March
Trek to Everest Base Camp during the March month is the ultimate time for high altitude walkers in Nepal Himalaya kingdom. March month is the beginning of spring in this season everything invigorates a new life of nature, the trekking trail will be quiet and offer you an amazing experience of the Everest base camp trek.
While the climate in the mountains is still cold and may still be a problem in some places. The environment is very fresh and able to see very clear mountain vistas. The meadows and forest will be in full bloom with riots of colors of wildflowers specially rhododendron is the national flower of Nepal.
You will be completely enjoying your EBC trek, trekkers hit the trail in larger numbers again in March as well are much good reason to do this trip, here's what you need to know more details about the trek to Everest Base Camp in March.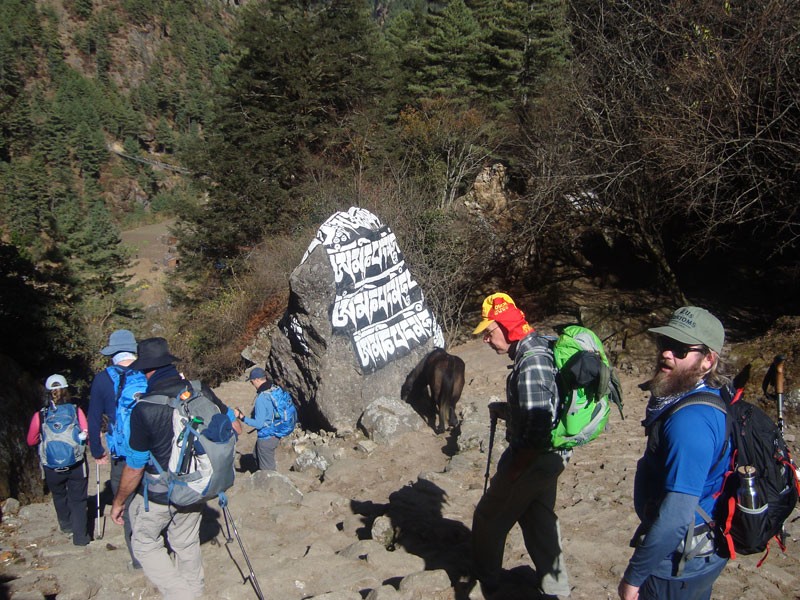 NSA group of trekkers heading their destination in Everest base camp trek
Weather
It is not a month for rain, meaning a very good chance to have beautiful weather and can able to see a clear mountain view along with your trekking to Mt. Everest base camp at 5,364m | 17,593ft. March month s just being the transition from the winter season to spring and will be very fresh weather condition and still, some major trek high passes trek route could be covered by snow. The temperature approximately could be at Everest base camp almost 7 degrees that all in depending on the weather condition.
All the EBC trekkers can enjoy day trek weather night and the morning feels still cold but mountain views are very clear and could able to share your Everest base camp trek experience in good adventure trip and wonderful mountains view in March month trek to Everest Base Camp. There are other benefits for trekkers can enjoy with their hike exploration of Sherpa homeland, and valley in beautiful weather but do not keep in your mind the temperature in the EBC route is unpredictable.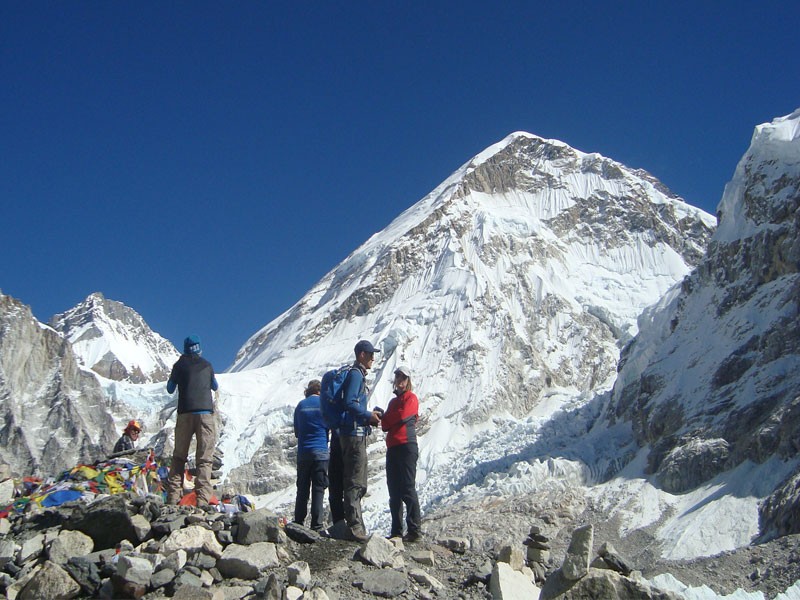 Trekkers successfully reach Everest base camp in spring, beautiful weather
Travel Tips
As per my previous experience, providing you the following Tips about Everest Base Camp Trek in March grab it then share your different experiences with us.
Accommodation, Food, and Cost
Trek to Everest Base Camp in March month would not busy as much as April and May. You can find almost similar lodge-teahouses accommodation on the trek route of EBC beside Lukla and Namche Bazaar both places can able make the overnight sleep in a fancy hotel. Trekking with a good through best local trek operator manages all standard lodges along the EBC trek period.
You can eat breakfast and lunch at the same place where you sleep overnight if you do not eat the same lodge your room bill costs go up to lunch at different Sherpa restaurants day by day and you require to eat Nepali hygienic food as well can find western continental Chinese. Overall daily meals: breakfast, lunch, and dinner cost you approximately USD 20-22 dollars per person per day through Nepalese style.
Advance Well Prepared
Before starting your trek in the high altitude of Everest base camp you need to prepare well in advance! Because the weather in the Everest region is could in morning and night so, you can wear a layer of clothes so that you can add or remove your clothes based on weather conditions.
As you have a very good dream to reach Everest base camp at 5,364m, you require to do in advance morning exercise such as morning walk and cycling it means our muscle and body is fit for trekking 5-6 hours a day along the EBC trek.
Start Your Trek in Early
As per global O'clock in Nepal Everest trek region the March month day is short, the night will be longer, while we require to walk every day 6-7 hours walk before reaching Everest base camp and you need also extra time break for the daily lunch break, soft drink break if you start your trek every day early after the breakfast as per your EBC trek itinerary you will get enough hours time for exploration even more details which is also top tips for you.
Acclimatization
For high altitude trek such as Everest Base Camp-Kalapatthar 5,545m hike, you require at least two rest days (acclimatization) before reaching the EBC which days will help you to your better achievement and require drinks to hydrate regularly to cope with altitude sickness as well the process of acclimatization slowly increases the level of oxygen in your body. Do not make the whole day sleep in the two rest days period you need to ascending at least 300-400 up then descend at your overnight stop point, drinks 3-4 letters clean water help you to get more advantage entire your trek.
Trip Advance Booking
March month is not a busy season, after the 2nd of the week, the trek trail will be started crowds by mass of trekking group sometimes unable to find the accommodation after the Namche. This affects your trekking experience, not in good condition. To get rid of these problems you must select your trek itinerary and book as early as possible for your trip secure advance booking which makes your EBC trip comfortable and never feels again of a bad situation.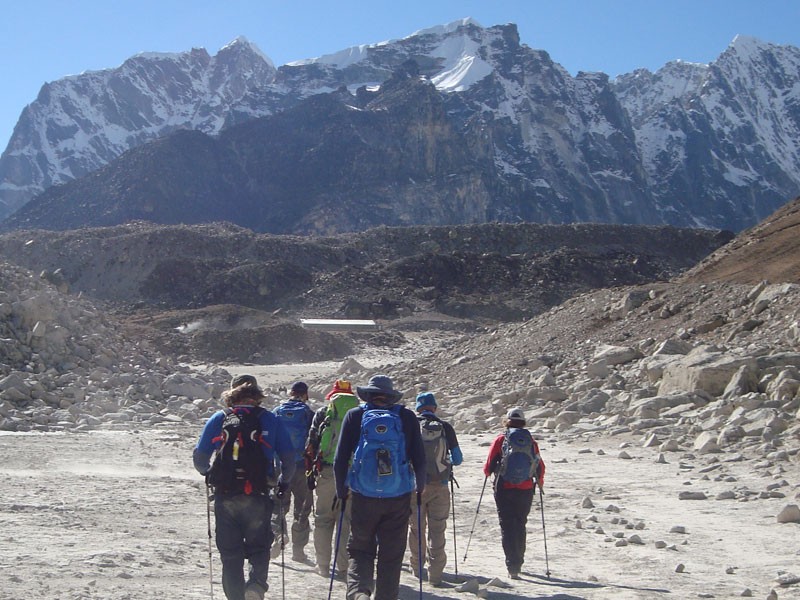 Group of trekkers hiking to Everest base camp in beautiful spring fall from Gorakshep
Packing List What to Bring
As we are planning to do the trek during march month, the winter season just passed, and still have a chance to get the cold at high altitude trek routes. Everest Base Camp Trek equipment is very important to know before packing your list in baggage, even though teahouses usually provide blankets but we recommend you bring your own warm sleeping bags. Blankets at teahouses aren't washed very often due to high altitude and busy season time. A warm down jacket is also necessary for the trek to Everest base camp in March.
It is our great pleasure to recommend in the following EBC trek equipment that what to bring with you while you are doing Everest base camp trek in March as well as you can look up and shopping in Kathmandu-Thamel after your arrival in Nepal but time is also important. Also bring good merino and synthetic fiber clothing to keep you warm in the evenings and nights, as well as woolen hats, gloves, socks, and scarves. Sunscreen is also a must however, Visit this link for your Packing list: Recommend EBC trek equipment
Events In March
The Everest region is mostly Tibetan Buddhist in culture and religion, and several of Nepal's various exciting festivals come from Hindu traditions, so are not widely celebrated in the mountains zone. If you are planning a trek in Nepal in March, you can share your experience on of the following festivals in Kathmandu before or after your EBC trek.
Hindu traditional Nepalese festival typically follows a lunar calendar, so some festivals that fall in March one year may be in February of April the next. The festivals that often fall in March that you can meet in the following during your Everest base camp trek
Maha Shivaratri
Shivratri-the night of Lord Shiva: This is one the greatest festivals of Hindu religion, celebrated in honor of Lord Shiva. A great religious fair takes place in the Pasupatinath Temple (UNESCO world heritage site) and thousands of people from all over Nepal and India visit this temple they are fast the whole day and celebrate at night. On this day more than a thousand Sadhus (Hindu holy men) are gathered to worship Lord Shiva at Pashupatinath Temple that day and night will be special smoking merriment.
Ghodejatra
Ghodejatra is known as the festival of horses. It is one of the most exciting festivals in Kathmandu city. Horse face and other sports take place at Tundikhet on this day in other parts of the city the various deities are carried shoulder-high on wheels chariot (Khat) with the accompaniment of traditional music. Mainly this festival performs horse by Nepal army.
Holi
This is an interesting festival in Nepal which is known as the festival of colors. People are playing and enjoying throwing different colors between the people of group, families together celebration, they do celebrate this festival two days one for the hilly region, and another for Tari belt.
Popular Trek in Everest Region
Everest Base Camp Helicopter Trek 10 Days
Classic Everest Base Camp Trek 16 Days
Gokyo Lake Renjo La Pass Trek 15 Days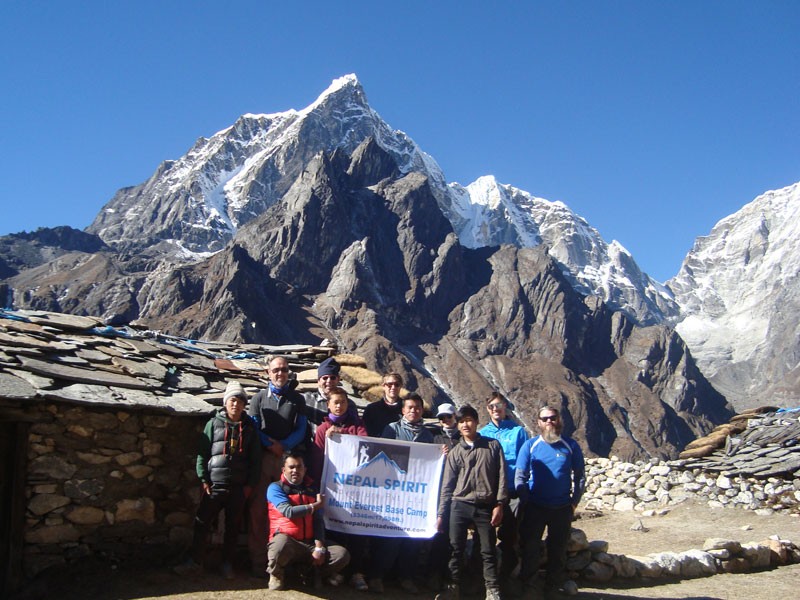 Grop of trekkers snap picture behind the mountain with their journey to Everest base camp trek in March
Difficulty
Trek in Nepal Himalaya on high altitude foothill walking is not easy but people have a dream to reach the world's highest base camp once in a lifetime. In this trek, if you are preparing perfectly for your trekking then you will be successful to reach Everest base camp at 5,364m. You walk slowly from Lukla to EBC with having enough high altitude acclimatization days, book your EBC trek with an expertise Nepal base trek company.
Friendly and experienced trek guides and staff only can make your trip a comfortable and easy journey and start this adventure trek you need to take a short flight from Kathmandu to Lukla. The Lukla flights are normally scheduled before 12 pm; sometimes the flight could be delayed due to frequent changes in the climate of Lukla. But don't worry flight is scheduled after the climate is favorable for the flight or could be scheduled for the next day.
During the Everest Base Camp Trek in March, the average walking period for trekkers is 5-7 hours per day. If you are uncomfortable with this situation you can apply Luxury Everest Lodge Trek or start the trek slowly from Lukla to Everest base camp then take a helicopter flight to Kathmandu that would be also another advantage of a lifetime experience taking a helicopter flight from a high altitude Gorakh Shep (5170m/16962ft) to Kathmandu which require you 11 night 12 days from Kathmandu to Kathmandu call Everest Base Camp Helicopter Trek