Everest Base Camp Trek in November
Are you planning a visit to Nepal to do the Everest Base Camp Trek in November would be one of the best times for your full excitement and great adventure with wonderful mountain views of the beautiful landscape? While the month of October is the best for trekking in Nepal, November is also the more perfect time to do the Everest Base Camp Trek: the highest base camp trek in the world presents the best opportunity to feel nature closely and discover the ancient historical culture and custom of Nepal.
Trek to Everest base camp in November offers you the best trips for your golden dream achievement that Trek including adventurous flight to Lukla and lifetime experience trekking trip to Everest base camp at (5,364m/17,594ft) climbing at Kalapatthar (5,545m/18193ft) to see the very close view of Mt. Everest 8,848m. You will get the best opportunity to explore real Sherpa's families, villages, culture and customs, and very old Buddhist monuments along your journey to Everest Base Camp Trek as well as provide you breathtaking views of snowy mountains, glaciers, colorful bloomy flora, and fauna.
Nepal Spirit Adventure (NSA) is an expertise leading Nepal-based local trekking company in Nepal, dwell in Thamel has more than 25 plus of experience in the trekking region, always takes care of customer service, providing quality service at a reasonable price. All of our guides speak good English and have decades of experience with Everest Base Camp Trekking including several trek routes in Nepal Himalaya.
It is my great pleasure to share our decades of experience with novice travels about Everest Base Trek in November! Have a great time and find the highlight information in the following details.
Book your Everest Base Camp Trek in November now!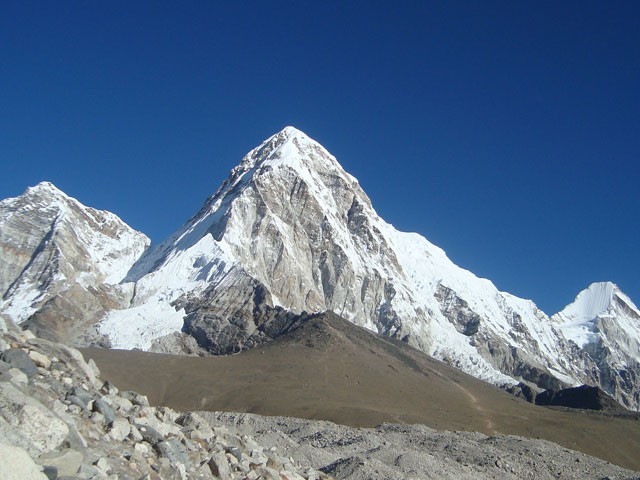 What a beautiful weather condition during the Everest base camp trek in November
The weather condition in November
Trekking to Everest Base Camp during the November month would be two combination weather condition seasons that means autumn and winter. The conversion two-season grant the two types of weather, in the first half of the month, you can get warmer sunny with fewer clouds in the sky. The favorable condition of weather provides an outstanding view of snowing mountains, green lush vegetation, and the colorful environment of the valley. While in the second half of the month the weather condition changes a little bit colder and more clouds and fog in the higher elevation most in the morning but days would be wonderful clear sky vision weather.
There is very little chance of rain in the Everest region in November, it is actually the driest month of the entire year. This means that humidity is very low, and the chance of crisp mountain views is higher than any other time of the hearing. Temperatures are a few degrees cooler than in October, with an average low in Namche Bazzar (11,290feet/3440 meters) of 26*F(-3*C) and an average high of 48*F (9*C). The temperatures at higher altitudes will be even colder. But given the low chance of rain and the clear condition, it could be said that weather-wise, November is the best month of the year to go to Everest Base Camp.
As per my trekking experience, the Everest base camp temperature in November is fantastic for the trekkers who walk towards the world's highest base camp. The temperature of the region falls between 6 to 12* during the daytime while in the morning and night feel it becomes colder. Do not worry at all we NSA provide you with a warm sleeping bag and down jacket as well most of the trekking lodges provide a fire chimney at the dining hall during dinner time.
Overall, the weather condition is perfect for the adventure seeker trekkers that's why many travelers from around the world decide to go to the Everest base camp trek in November.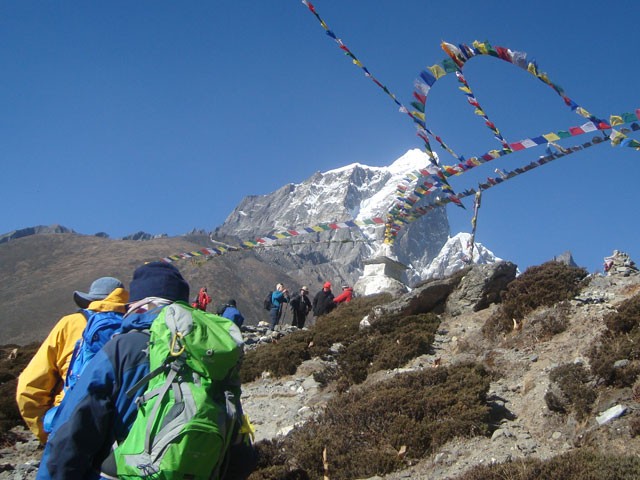 Happy trekkers heading to Everest base camp trek in beautiful weather in November
Lodge & Cost
In the month of November, the Everest base camp trail will be fulfilled with tourists because of beautiful clear weather trekking trail is almost as busy as October even lodges are busy sometimes you may find the accommodation at Lobuche and Gorakshep require to make the advance booking which works by Nepal operator (Kathmandu). Everest base camp trek in November trek with a good guide who will get you to a comfortable teahouse, all the teahouses lodges cost $ 4-5 per bed and 3 times a meals cost you $21-25 dollars per person would be the value of good food following by Nepalese way. The Everest Base Camp (EBC) trek is the most popular in Nepal and you're likely to have plenty of company on the trail in November.
Why Trek to Everest Base Camp in November?
Gorgeous weather and fantastic views
Everest base camp trek in the month of November, you can find clear beautiful weather conditions; blue sky clear, sunny day with no chance of rainfall. Besides fantastic weather provide you with spectacular snowy mountain views, colorful Sherpa's valley, and breathtaking views of Khumbu glaciers. Trekking days are warmer with few clouds in the sky and cool winds passing through your body making you naturally fresher and you can enjoy very much Everest Base Camp Trek in November.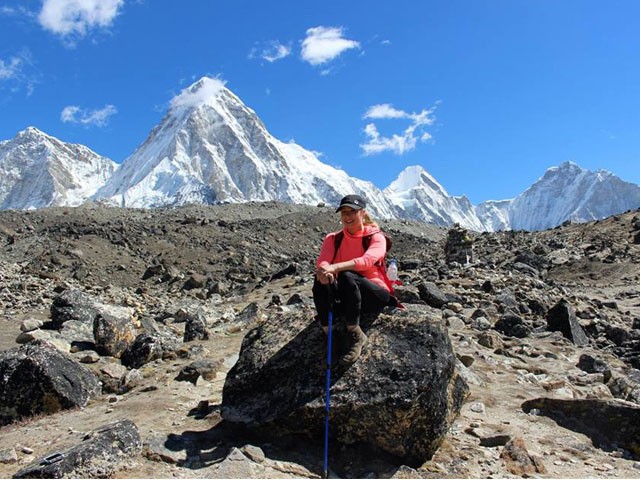 Gorgeous Mountain View from near from EBC trail
Peak Trek Season
While the weather is so beautiful in November, most of the EBC trekkers love to do the hike to Everest Base Camp in clear weather, and the reason Everest trekking trail and lodges are very busy and peak hours no one like to do high altitude treks in bad weather. During this season you can find the dry trails, lush forest, blooming different beautiful colorful flowers, gigantic mountains, and brilliant 360- degree views of the mountain along the trail. This is the main reason that trekkers from all around the world choose this month for doing the Everest Base Camp Trek.
Flowering flora-fauna vegetation
While the climate ending of the autumn season and the starting the winter season fail under November. This is the right time all the Khumbu flora and faunas are in full bloom that decorates the village and trekking path valleys with green and different colors, honoring a great view for passersby. Naturally helps to forget the hardness and difficulties of the trek and energies you're with full confidence. The charming landscape of the colorful bloomy flowers, green lush vegetation with majestic views of the snowy mountains gives your picture for the lifetime remarkable.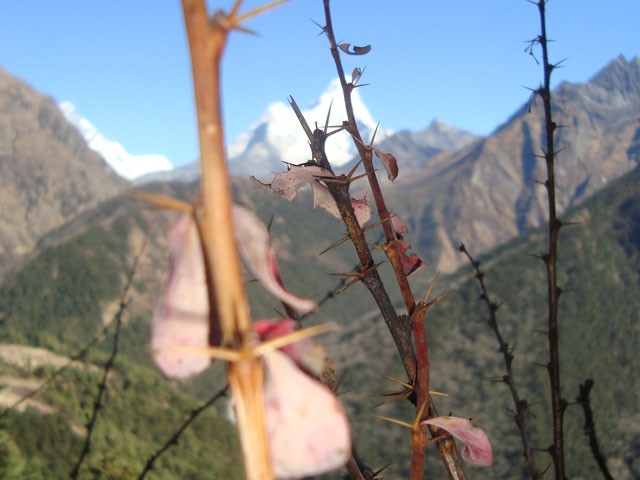 Blooming vegetation on the route of EBC trek in November
The warm hospitality and Sherpa cultural exploration
Most of the families inhabit in the Everest Region are Buddhist still their culture is similar to Tibetan. In most of the places, you will be accommodated Sherpa families who are very honest strong traveling to the world's highest base camp you can get a warm welcome and hospitality from the Sherpa family from the gateway of EBC: Namche, Tengboche, and Dingboche.
During the trip, you can closely explore lookup, and experience old ancient Buddhist monuments, culture, religion, and customs. If you have a good English-speaking trek guide who can explain in details brief of them as well as personally, you can talk with local people even they speak poor English language. Be sure that you will get a local trek guide before your booking Everest base camp tour. Nepal Spirit Adventure expert guide helps you to gram more detailed information in a friendly environment along your journey to the EBC trek.
General trips for Everest base camp trek
Pre- advanced booking
People who want to dance to a good song also wish to travel in clear weather! November is the peak for Everest Trek in Nepal. Travels love to enjoy their Nepal trekking holiday with beautiful climate conditions, adventure mountain trekkers from all over the world people have a good purpose visit to Nepal for Everest Base Camp Trek. This means the trekking trails get crowded by trekkers which affect also accommodation, food, drink, and Lukla flight. Thus, pre-advance booking for the Everest base camp trek in the month of November helps you find the first flight to Lukla, cozy and better accommodation, quality food, drinks, and the best trek guide which make your hike to BBC trek comfortable and enjoyable that's why pre-advanced trek booking is also a requirement for Everest Base Camp Trek in November.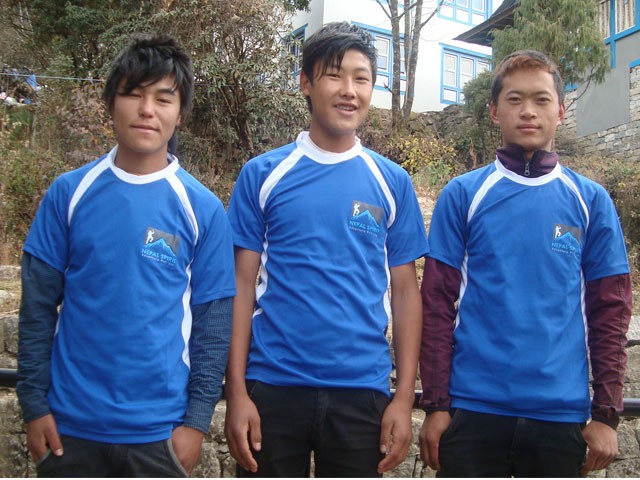 Friendly Everest base camp trekking team
EBC trek equipment
Trek equipment is very necessary before you start Everest base camp trek, you may have general information through several social guide book that you can buy remain of the thigh in Kathmandu after your arrival in Kathmandu but due to lack of time and your international flight can be a delay you may have not timed grab them please kindly visit we recommend EBC trek equipment before your journey flight to Kathmandu for helpful information.
Acclimatization
As you have a long purpose to do the Everest base camp trek in beautiful weather season within the good hand. Acclimatization is very important before your reach to high altitude zone and it helps your body to make easily cope with the surrounding new environment and air pressure poor acclimatization is the main reason for attracting high altitude mountain sickness. As my previous experience, you require to take at least 2 days acclimatization day: one day at Namche and second day at Dingboche which helps you very friendly environment reach to Everest base camp at 5,364m without any problems.
Travel Insurance
This is also an important factor before your trek to high altitude trip in Himalaya that you are preparing for the Nepal Everest base camp trek, the most vital thing you need to consider is travel insurance which is top compulsory for every trekker to minimize the economic loss while damage and loss of their belongings. Better, you need to buy Everest base camp trek insurance for above 4,500-meter altitude that covers the missing baggage, flight, and airlifting a medical emergency. Look and keep in your pocket, we suggest that you buy travel insurance from your home country before landing in Kathmandu, Nepal.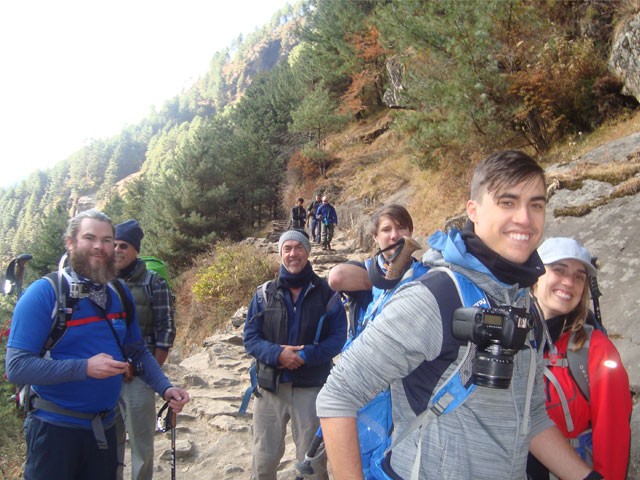 Trekkers heading towards to Everest base camp trek in November
Food and Drinks
On the tour of the Everest base camp trek in November, there is sufficient place for drinks and food. Do not forget to keep in your mind good food is important for the travels to Everest base camp. NSA expert Sherpa guide provide you're a quality hygienic hot food along the Everest foothill trails, you can easily get different food like western, continental and local Nepali food –DALBHAT which is fresh and clean dishes on your trip but we provide every trekker a three-time meal on their choice from the menu.
You require as much as possible drinks water, carrying a personal water bottle is top needed you should drink at least 3-4 litters water per day to avoid dehydration and altitude sickness. Easily can get a bottle of mineral water from every teahouse or hot water but extra costs you $1-2USD per litter depending on high altitude place. The cost will be different due to the transport. We suggest you avoid alcoholic drinks and coffee which increase the chance of dehydration.
Recommended Trek Routes
The classic Everest base camp trek is a classic for good reason, and if this is the route you have your heart set on, November is a good month to do it, But, if you'd rather avoid the busy path, there are many alternative routes in the Everest region that still offer wonderful views of Mt. Everest and friends, but without the crowds. The Gokyo Lake Panorama, Everest there high passes trip, Everest panorama trek Everest Base Camp Helicopter Trek, or other treks that sarong the main trails and head up different valleys are such a good design. May of the alternative routes overlap with the main EBC trek at places, providing the best of the worlds.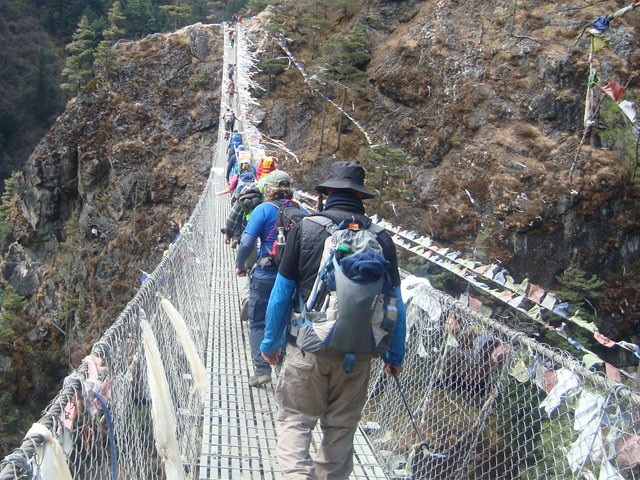 Trekkers crossing the bridge journey to Everest base camp trek
How to Getting There & Away
Start the Everest base camp trek in November, the fast way of getting from Kathmandu to the Everest region is to fly to the small mountain airstrip at Lukla. It's important to leave buffer days in your trip itinerary in case of delays leaving Lukla. Although conditions are generally favorable in November for flights to leave on time from either direction, don't risk missing an international flight.
The alternative way, if you have more time on your hands, you could take the Pioneers Route from Jiri to Lukla. It's called this because it was the trail that early western mountaineers took to access the Everest region before the Lukla airport was built. Times come and never wait for us, now we can take jeep transportation from Kathmandu to Kharikhola but this service is not available every month in a year. In enough time frame condition, you can take also a flight from Kathmandu to Phaplu and trek through the Solukhumbu region from there. Few trekkers these days take this trail, meaning you're unlikely to see many other trekkers until joining the main trail in Lukla/Pakding.
Your Favorite Trek Itineraries in November
Peaceful Gokyo lake panorama trek
3 High passes adventurous trek
Everest base camp helicopter trek
Classic Everest base camp trek
Everest base camp Island peak climbing
Everest Base Camp Trek in November trip highlights
Mountain views flight at Lukla airport lifetime adventurous experience.
Explore old ancient Buddhist monuments.
Welcome warms hospitality people from highland Himalaya.
Share Sherpa's culture on the route.
Your lifetime dream is to reach the world's highest base camp EBC at 5364m.
Unbelievable 360-degree Mountain views from Syanbuche and Kalapattha.
EBC trek in November: Beautiful weather warms and cool temperature.
Hiking through rich flora and fauna- Sagarmatha National Park.
Trekking with friendly experienced trek guide and porter.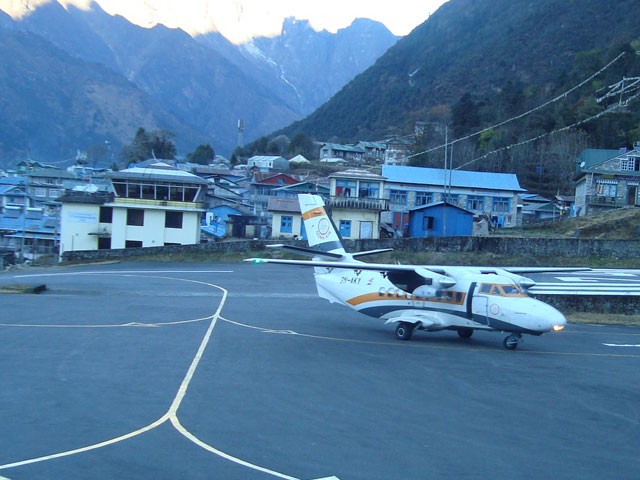 Amazing flight to Lukla EBC trekking
Events in November
Nepal is the only country in the world that celebrate many festivals in the year even does 1-to 2 festival every month. Nepali festivals usually follow a lunar calendar. It means that some festival that falls in November and October even in December month.
The people who live in the Everest region are mainly ethnic Sherpas and flow Tibetan Buddhism. They don't celebrate all of the same festivals as Hindu Nepalese of the hill areas but if you're traveling to Nepal earlier in November and passing through Kathmandu, you may come across the Tihar festival. This is one the most important festival of the year for most Nepalese, It's the festival of lights and sharing a gift between sister and brother, and a particularly lovely time of year in the capital.
One of the most important festivals for the Sherpa people is Mani Rimdu, which falls in either October or November. It's worth trying to in Tengboche for the festival if you can. Tengboche Monastery is the most popular monastery in the area, and monks dress in colorful and elaborate costumes to perform ritual dances which you may also welcome by them and it would also be your new experience from Everest base camp trek in November.
Difficulty
Lack of Privacy
When the month of November is the best time to do Everest base camp trek, The trekking trails get crowded by trekkers from all over the world. If you prefer or want a silent and peaceful environment with privacy on Everest Trekking then this month might not for you as normally you can meet fellow trekkers in the route of Everest base camp. Another point is that you can also get frustrated while waiting in a queue for capturing a greater view of the mountains and surrounding scenery.
High Altitude Sickness
Everest base camp trek is a high-altitude foothill trek. While you are going to trek above 4,000 meters high from the seas level, there is a high chance to get altitude mountain sickness but if you follow some rules and precautions avoid this problem.
Nepal Spirit Adventure health experts suggest you drink plenty of water along the trek, which helps to avoid dehydration and circulation of enough oxygen in your body. They also suggest you trek at your own pace, which helps your body to cope with the current environment and air pressure. While you feel uncomfortable immediately inform your guide and descend as soon as possible from the event point.
Conclusion
Beautiful weather clear view of mountains, craggy hills, the marvelous outlook of Khumbu glaciers, rich flora fauna in colorful blooming flowers in the valley, wild animals, rare plants is major highlight attraction for eager trekkers that's why many travels from different countries people they loved to do Everest base camp trek in November which is main peak trekking season in Everest Khumbu region.
In very good condition with travel suitable weather and temperature help the trekkers to get spectacular 360-degree mountain views and scenery as well as it favors trekkers to easily overcome the EBC.
Providing the best service is our main concern, so NSA warmly welcomes you to the Nepal Everest Trekking on a customized itinerary as per your requirement. If you have any queries do not feel any hesitation and directly contact our trek expert. While you are enjoying reading this travel helpful blog please kindly give us your feedback which helps others travels.
Plan your trip to Nepal: Customize your trip with help from a local travel specialist.