Everest Base Camp Tailor Made Trips are available thru Nepal Spirit Adventure specializes in assisting travelers to have wide-ranging experiences in Everest Trekking Region. Our team is committed to providing the best information and advice to travelers on trekking, outdoor adventure sports, cultural and spiritual tours, volunteering, cross-border experiences, and safety issues to help you make the most of your stay in the Himalayas. Himalayan travelers are generally surprised at the breadth of activities achievable during short or long stays and to any degree of comfort. On or off the beaten track there is a breadth of accommodation standards catering to those who like it rough and ready or deluxe. In a nutshell, the Himalayas is a dream holiday destination.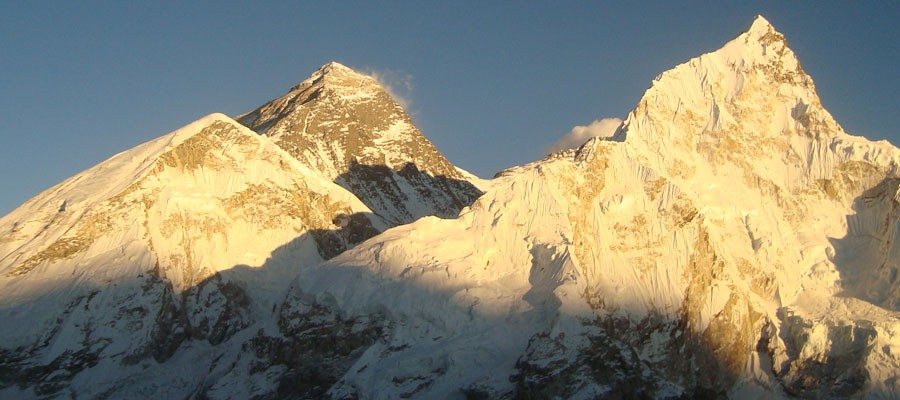 Mt. Everest View from Kalapatthar at 5545m.
Trek to Mount Everest Base Camp at 5364m high from sea level, to make it comfortable as per trekkers require our expertise in designing personalized itineraries to meet your needs comes from our vast knowledge of the trekking and outdoor adventure industries, experiences with local communities and several years providing guided treks across the Himalayas. We always listen to clients' needs and interests and plan itineraries carefully and collaboratively with our clients. Wherever possible, we will advise you on how to design your itinerary flexibly in the event your needs change during your journey.
Useful Starting Points to Creating Your Tailor-Made Holiday
Write a list of experiences you would like to achieve and prioritize your list.
Discuss your common interests with people you intend to travel with.
Think about what your combined capabilities are for various activities.
For trekking, seek our advice on how to create a route that suits your needs!
To make the Everest Base Camp Trek Tailor-Made, we can support you with information on available facilities in Everest regions; fitness levels for many routes along the Everest Base Camp Trek; ways to increase physical challenges (e.g. pass crossings, peak climbs, and mountaineering expeditions); routes with greater exposure to villages wildlife, spiritual sites, landscapes; self-navigation v guide and porter hiring; permits, hotel reservation, flight domestic and international, transportation options in different regions; and equipment arrangement especially for Everest Base Camp Trek, Three Everest Passes Trek, EBC and Island Peak Climbing, Cho La Everest Base Camp Trip.
We have taken care to describe experiences associated with our pre-organized packages. This information may serve as a useful reference point to assist you with designing your tailor-made holiday. Please review our packages and/or contact our team via phone at 977-1-4025677 or e-mail (info@nepalspiritadventure.com) to discuss what you want to do. Your happiness is our pleasure. Your satisfaction is our golden goal!
We are pleased to offer you're following the Everest trekking route in Tailor Made Trip in your requirement holiday.
Everest Base Camp Trek
EBC Helicopter Trek
Everest Base Camp Helicopter Trek
Gokyo Lake Trek
Classic Everest Base Camp Trek
EBC Cho La Pass Trek
13 Days Everest Trek
Gokyo Renjo La Pass Trek for the best view of Mt. Everest 8,848m
Everest Panorama Trek
Everest Base Camp Luxury Trek
Everest Base Camp Island Peak Climbing
3 Highest Passes Trek In Everest
Renjo La Passes Trek
Review us for your Everest Base Camp Tailor-Made Trip with the expert manager at Nepal Spirit Adventure! Thanks have a good day ahead!!