The Everest Base Camp Trek is a once-in-a-lifetime adventure that takes trekkers on a thrilling journey to the base camp of the world's highest peak, Mount Everest. Nestled in the breathtaking landscapes of the Himalayas, this trek offers an unforgettable experience for adventure enthusiasts and nature lovers alike. In this comprehensive guide, we will explore the cost breakdown of the Everest Base Camp Trek and why it's an incredible choice for your next adventure.
Before diving into the Everest Base Camp Trek cost details, let's get a brief overview of the Everest Trek. The journey begins in Lukla, where trekkers take a thrilling flight from Kathmandu to experience the dramatic mountain views. From Lukla, the trek gradually ascends through picturesque Sherpa villages, lush rhododendron forests, and serene river valleys.
As trekkers venture higher, they will encounter challenging terrains, suspension bridges, and rugged mountain trails. The final destination, Everest Base Camp, offers an awe-inspiring view of the majestic Khumbu Icefall and the towering peak of Mount Everest. The sense of accomplishment at reaching the base camp is unmatched.
Preparing for the trek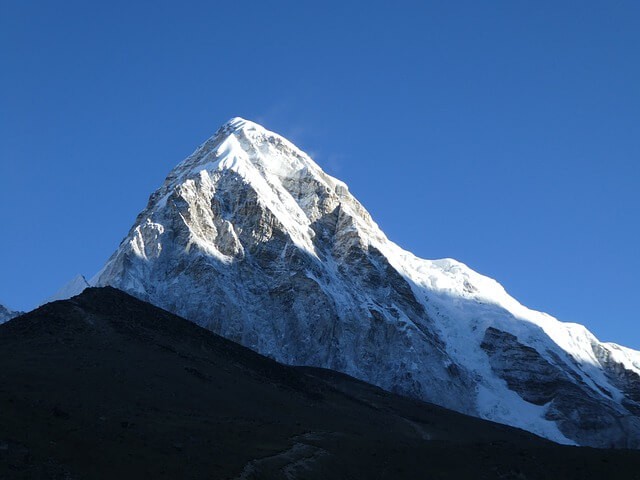 Embarking on the Everest Base Camp Trek requires careful preparation and research to ensure a successful and unforgettable adventure. Before setting foot on this iconic trek, understanding the journey and its associated costs is crucial. In this section, we'll delve into the essential steps to prepare for the Everest Base Camp Trek, including thorough research on the trek itself and its expenses.
The first step in preparing for the trek is to gain a comprehensive understanding of what the Everest Base Camp Trek entails. This involves studying the route, altitude, duration, and challenges you might encounter along the way. Conduct thorough research by reading guidebooks, consulting experienced trekkers, and exploring reputable online resources. Understanding the trek's demands will help you plan and train accordingly.
Trekking Seasons and Weather
Knowing the best time to undertake the Everest Base Camp Trek is crucial for a safe and enjoyable journey. The trek is primarily done in two main seasons: spring (March to May) and autumn (September to November). During these periods, the weather is relatively stable, with clear skies and moderate temperatures. However, keep in mind that weather conditions in the mountains can be unpredictable, so being prepared for changes is essential.
Choosing the Right Trekking Package
Deciding between a guided or independent trek is an important consideration. While some trekkers opt for a self-guided journey to save costs, joining a guided trek can provide numerous advantages. Reputable trekking agencies offer guided packages that include permits, meals, accommodation, guides, and porters. Evaluate your budget and preferences to determine which option suits you best.
Cost Breakdown
Understanding the cost breakdown of the Everest Base Camp Trek is essential for budgeting and financial planning. As outlined in the previous section, the expenses involved include trekking permits and fees, travel expenses, guided trekking packages, accommodation and meals, gear and equipment, and miscellaneous expenses. Take time to assess each cost component and create a realistic budget accordingly.
Packing Essentials
Packing wisely is essential to ensure you have all the necessary items without carrying unnecessary weight. Key items include comfortable trekking clothing, sturdy hiking boots, a warm sleeping bag, a down jacket, trekking poles, a first aid kit, and high SPF sunscreen. Pack light but include all the essentials to make your trek enjoyable and safe.
Travel Insurance
Having comprehensive travel insurance is imperative for any adventure, and the Everest Base Camp Trek is no exception. Make sure your insurance covers high-altitude trekking and potential evacuation if needed. This safety net provides peace of mind and financial protection in case of unforeseen circumstances.
Everest Base Camp Trek Cost Breakdown
Everest Base Camp Trek Permits Fees
Before embarking on the iconic Everest Base Camp Trek, trekkers are required to obtain various permits to enter the Sagarmatha National Park and the Khumbu Pasang Lhamu Rural Municipality. These permits are essential for ensuring the safety of trekkers and preserving the natural beauty and cultural heritage of the region.
1. Sagarmatha National Park Entry Permit
The Sagarmatha National Park, a UNESCO World Heritage Site, is a protected area that trekkers must pass through during the journey to Everest Base Camp. To enter the park, you need to obtain a Sagarmatha National Park Entry Permit. This permit costs around$30 USD and can be obtained from the Nepal Tourism Board office in Kathmandu or from the park entrance in Monjo.
2. Khumbu Pasang Lhamu Rural Municipality Entry Permit
In addition to the national park permit, trekkers are also required to obtain a Khumbu Pasang Lhamu Rural Municipality Entry Permit. This permit costs approximately$20 USD and is necessary for trekking in the Khumbu region, which includes popular stops like Namche Bazaar and Tengboche.
It's important to note that these permits are non-transferable and non-refundable. Trekkers are required to carry these permits with them at all times during the trek, as they may be checked at various checkpoints along the trail.
Everest Base Camp Trek Transportation Costs
There are mainly two options to reach Lukla or Phakding the starting point for the Everest Base Camp Trek which are:
By Air: Lukla flights and helicopter
Once in Kathmandu, trekkers head to Lukla, a small town in the Everest region, to begin the trek. Lukla is inaccessible by road, so the most common and convenient mode of transportation is by air.
The flight from Kathmandu to Lukla takes approximately 30 to 35 minutes, offering breathtaking views of the Himalayan peaks. The cost of the round-trip flight can range from $370 to $390 USD, depending on the airline and season. It's recommended to book these flights in advance, especially during peak trekking seasons when demand is high.
Note: During the peak season (March, April, and October, November Lukla flights cannot be operated directly from Kathmandu due to high air traffic. Hence all the flights are operated from Ramechhap Manthali Airport.
For those seeking a more luxurious and time-efficient option, helicopter charters are available to reach Lukla. Helicopter flights offer stunning aerial views of the Himalayas and significantly reduce travel time. However, this option can be quite expensive and may not be viable for all travelers.
By Ground
The other option is by ground transportation more adventurous and budget-friendly approach is to travel overland from Kathmandu to Jiri, a town in the Solukhumbu district, and then trek to Lukla. The Jiri to Lukla trek, also known as the Classic Everest Base Camp Trek, takes approximately 6 to 8 days and offers a chance to experience the scenic beauty of the lower Solukhumbu region.
The most common modes of transportation from Kathmandu to Jiri are buses and shared jeeps. Buses are more affordable but may take longer due to frequent stops and road conditions. Shared jeeps are faster but may cost slightly more.
Bus Cost:The cost of a bus ticket from Kathmandu to Jiri ranges from $8 to $15 USD per person.
Shared Jeep Cost: A seat in a shared jeep may cost between $15 to $25 USD per person.
The overland journey from Kathmandu to Jiri typically takes around 8 to 10 hours, depending on road conditions and weather. The route covers approximately 190 kilometers (118 miles).
Everest Base Camp Trek Accommodation Costs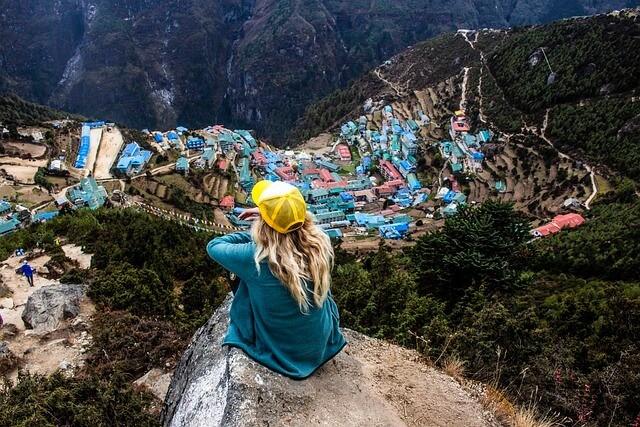 Accommodation costs for the Everest Base Camp Trek vary depending on the location and level of comfort.
In Kathmandu, trekkers can find budget guesthouses in Thamel, costing around $30 to $40 USD per night, while mid-range hotels and boutique accommodations range from $50 to $150 USD per night. For a more luxurious stay, luxury hotels and resorts offer top-notch facilities at prices starting from$200 to $500 USD per night or higher.
During the trek, accommodation is provided at tea houses along the trail. Lower-altitude tea houses in places like Phakding and Namche Bazaar may cost $20 to $40 USD per night, while higher-altitude tea houses in Dingboche and Lobuche could range from $40 to $80 USD per night.
At Everest Base Camp, trekkers have the option of staying in tents provided by guided trek agencies, with the cost of tent accommodation included in full-service packages, which can cost between $1,200 to $2,500 USD depending on the agency and inclusions. It's important to book accommodation in advance, especially during peak trekking seasons, to ensure a comfortable and enjoyable journey to the base of the world's highest mountain.
Everest Base Camp Trek Food Costs
When preparing for the Everest Base Camp Trek, it's essential to consider food and drink expenses as part of your budget. Let's break down the costs for meals in Kathmandu, food and drinks on the trek, and budgeting for snacks and extra nourishment.
Meals in Kathmandu:
Kathmandu offers a diverse range of dining options catering to different tastes and budgets. Budget travelers can find local eateries and street food stalls offering traditional Nepali dishes and international cuisine at affordable prices. A typical meal in a local restaurant may cost around $5 to $10 USD. For mid-range and luxury travelers, there are restaurants and cafes serving a wide variety of cuisines at prices ranging from $10 to $30 USD per meal.
Food and Drinks on the Trek:
During the Everest Base Camp Trek, trekkers will be staying at tea houses along the trail. These tea houses offer meals and beverages to keep trekkers nourished and hydrated. The cost of food at tea houses varies depending on the location and altitude. On average, meals at tea houses may cost $10 to $15 USD per meal. Tea houses also offer hot drinks such as tea, coffee, and hot chocolate at reasonable prices, usually around $2 to $5 USD per cup.
Budgeting for Snacks and Extra Nourishment:
While meals at tea houses are included in guided trek packages, trekkers should budget for snacks and extra nourishment during the trek. Snacks such as energy bars, nuts, and dried fruits can be purchased at tea houses or brought from Kathmandu. Budget around $5 to $10 USD per day for snacks and extra nourishment to keep your energy levels up during the challenging trek.
To manage food and drinks expenses effectively, it's advisable to carry some cash in Nepali rupees. While some tea houses accept credit cards, they may charge extra fees for transactions. Proper budgeting for food and drinks ensures you have a satisfying culinary experience throughout the trek and helps you focus on the breathtaking landscapes and the exhilarating journey to Everest Base Camp.
Everest Base Camp Trek Cost: Gear and Equipment
When embarking on the Everest Base Camp Trek, having the right trekking gear and equipment is crucial for a safe and comfortable journey. Let's explore the essential gear checklist, the pros and cons of renting vs. buying trekking gear, and the costs of gear rental.
Essential Gear Checklist:
Before starting the trek, trekkers should ensure they have the following essential gear:
Trekking Boots: Sturdy, comfortable trekking boots with ankle support are essential for rugged mountain trails.
Trekking Pants and Shirts: Lightweight, moisture-wicking clothing for easy movement and comfort during the trek.
Insulated Jacket: A warm and waterproof insulated jacket to stay protected from cold and unpredictable weather.
Sleeping Bag: A good quality sleeping bag suitable for cold temperatures in the mountains.
Daypack: A small backpack to carry essentials like water, snacks, and personal items during daily treks.
Trekking Poles: Optional but helpful for stability and reducing strain on knees during steep descents.
Headlamp or Flashlight: Essential for navigating in the dark, especially in early morning or evening treks.
First Aid Kit: A basic first aid kit with essential medications and supplies for emergencies.
Water Bottle and Purification Tablets:A reusable water bottle and water purification tablets to stay hydrated throughout the trek.
Sunscreen and Sunglasses:Protection from the intense mountain sun and UV rays.
Renting vs. Buying Trekking Gear:
Trekkers have the option to rent or buy trekking gear. Renting is a suitable choice for those who do not trek frequently or wish to travel lightly. It allows you to avoid the hassle of carrying bulky gear to and from Nepal. On the other hand, buying trekking gear is more beneficial for regular trekkers or those who prefer to have their gear tailored to their needs and preferences.
Costs of Gear Rental:
The costs of gear rental can vary based on the quality and duration of the rental. Here are approximate rental costs for some essential items:
Trekking Boots: $1 to $2 USD per day
Sleeping Bag: $1 to $2 USD per day
Down Jacket: $1 to $2 USD per day
Trekking Poles: $1 to $2 USD per day
Daypack: $1 to $2 USD per day
Overall, the cost of renting trekking gear for the entire duration of the Everest Base Camp Trek can range from $50 to $100 USD, depending on the rental period and the quality of the gear.
For those who prefer to buy their trekking gear, the average cost can be higher, ranging from $300 to $500 USD or more. Buying gear allows trekkers to invest in high-quality, personalized items that can be used for multiple treks in the future.
Before renting trekking gear, it's advisable to inspect the items for any damages or wear and tear. Additionally, carrying a few essential personal items like trekking clothes, socks, and underwear is recommended to maintain hygiene and comfort during the trek.
Everest Base Camp Trek Cost of Hiring Guide and Porter
Hiring guides and porters for the Everest Base Camp Trek offers numerous benefits, especially for trekkers with limited experience in high-altitude trekking or those seeking a more enjoyable and stress-free journey.
The cost of hiring a guide for the Everest Base Camp Trek can vary based on factors such as experience, language proficiency, and the level of service provided. On average, the daily fee for a licensed guide can range from $20 to $40 USD. The cost is often lower when booking a guided trek package that includes accommodation, meals, permits, and transportation.
Porters on the other hand play a vital role in carrying trekkers' belongings during the trek. Their wages and tips are an essential aspect to consider when hiring them.
Porters' Wages: Porters' wages typically range from $15 to $25 USD per day, depending on the weight they carry and the distance covered.
Tipping Note: Tipping is customary in the trekking industry as a token of appreciation for hard work. It is recommended to tip around 10% - 15% of the overall trip cost, as a gesture of gratitude.
It's important to treat both guides and porters with respect and ensure they are adequately equipped for the trek with proper clothing and gear. Additionally, booking through reputable trekking agencies ensures fair wages and ethical treatment of guides and porters.
Travel Insurance
Travel insurance is a vital aspect of preparing for the Everest Base Camp Trek or any adventure travel. It provides financial protection and peace of mind in case of unexpected events and emergencies that can occur during the journey.
Medical Emergencies
Trip Cancellation and Interruption
Baggage Loss or Delay
Emergency Evacuation
The coverage and costs of travel insurance can vary depending on the insurance provider, the level of coverage chosen, the duration of the trip, and the traveler's age and medical history.
Coverage: A comprehensive travel insurance policy typically includes medical coverage for accidents and illnesses, emergency medical evacuation, trip cancellation/interruption, baggage loss, and personal liability coverage.
Costs: The cost of travel insurance for the Everest Base Camp Trek can range from $100 to $500 USD or more, depending on the factors mentioned above. Premiums may be higher for older travelers or those with pre-existing medical conditions.
When choosing travel insurance, it's essential to carefully read and understand the policy terms, coverage limits, and exclusions. Look for insurance providers that specialize in adventure travel or trekking insurance, as they are more likely to offer appropriate coverage for the specific challenges and risks of high-altitude trekking.
Contingency and Emergency Expenses
When preparing for the Everest Base Camp Trek, it's crucial to allocate a portion of the budget for contingency and emergency expenses. Despite careful planning, unforeseen situations can arise during the trek, and having a financial safety net can provide peace of mind and ensure trekkers are prepared for any eventuality.
Weather-Related Delays: Adverse weather conditions, such as heavy snowfall or storms, can lead to flight cancellations or delays, affecting the trek itinerary. Budgeting for additional accommodation and meals in case of unexpected delays is prudent.
Altitude Sickness: Altitude-related illnesses can affect trekkers, especially at higher elevations. In case of altitude sickness, additional acclimatization days or a change in the trekking itinerary might be necessary, leading to extra expenses.
Extra Nights in Tea Houses: Trekkers may choose to spend an extra night at a tea house to rest or acclimatize, or they may decide to take a detour to explore a nearby attraction. Having funds available for such unplanned situations ensures flexibility and comfort during the trek.
Emergency Evacuation Costs:
In the event of a severe medical emergency or injury during the Everest Base Camp Trek, emergency evacuation might be required to transport the affected trekker to a medical facility with proper care. Emergency evacuation in the Himalayas often involves helicopter rescue due to the challenging terrain and lack of immediate road access.
Cost of Emergency Evacuation: Emergency helicopter evacuations in the Everest region can be expensive, ranging from $5,000 to $10,000 USD or more, depending on the distance and location of the evacuation.
Travel Insurance Coverage: As mentioned earlier, having comprehensive travel insurance that includes emergency medical evacuation is crucial. Travel insurance covers the cost of emergency helicopter rescue and transportation to a medical facility, ensuring that trekkers receive timely and life-saving medical attention.
To budget for contingency and emergency expenses, trekkers should consider the cost of additional accommodation, meals, and unforeseen circumstances. It's also essential to invest in a reputable travel insurance policy that specifically covers high-altitude trekking and includes emergency evacuation coverage.
Saving Tips and Strategies
Tea House Accommodation: Choose budget-friendly tea houses for accommodation and meals.
Shared Accommodation: Share a room with fellow trekkers to split the costs.
Meal Choices: Opt for local Nepali dishes and vegetarian meals.
Refill Water Bottles: Use purified water available at tea houses or use purification tablets.
Group Trekking: Consider joining a group trek organized by a reputable agency.
Self-Guided Option: Choose a self-guided option for experienced trekkers.
Trekking Permits: Obtain necessary permits directly from authorized offices.
Everest Base Camp Trek Cost, Currency, and Payment Methods:
When traveling to Nepal for the Everest Base Camp Trek, it's essential to be familiar with the recommended payment methods and currency exchange tips to manage expenses effectively. Here are some key points to consider:
Recommended Payment Methods:
Nepalese Rupee (NPR): The official currency of Nepal is the Nepalese Rupee (NPR). It is advisable to carry some Nepalese rupees in cash for small purchases and expenses in local markets or remote areas where card payments may not be accepted.
Cash: Cash is widely accepted in most places, especially in rural areas and tea houses along the trek. It's recommended to carry a mix of small and large denominations to facilitate transactions.
Credit and Debit Cards: Major cities like Kathmandu and Namche Bazaar have ATMs where international debit and credit cards can be used to withdraw cash. However, it's essential to inform your bank about your travel plans to avoid any issues with card transactions.
Traveler's Checks: Traveler's checks are not widely accepted in Nepal, and it can be challenging to find places that cash them. It's best to rely on cash and cards for transactions.
Mobile Payment Apps: Some establishments in urban areas may accept mobile payment apps like eSewa or Khalti. However, these are not as commonly used as cash or cards.
Currency Exchange Tips:
Exchange at Authorized Places: Exchange currency at authorized banks, exchange counters, or ATMs to get the best rates. Avoid exchanging money with unauthorized individuals or street vendors.
US Dollars: US dollars are widely accepted in Nepal, especially in touristic areas. It's useful to carry some US dollars in case of emergencies or for major transactions.
Avoid Exchanging at the Airport: The exchange rates at airports are often lower than those at banks or exchange counters in the city. It's better to exchange a small amount at the airport and then find a better rate in town.
Check Exchange Rates: Before exchanging money, check the current exchange rates to ensure you get a fair deal.
Save Exchange Receipts: Retain exchange receipts as they may be required to convert excess Nepalese rupees back to your home currency upon departure.
Use Local Currency for Purchases: When making purchases, especially in local markets and tea houses, use Nepalese rupees to avoid unfavorable exchange rates and additional charges for foreign currency transactions.
Total Estimated Cost of Everest Base Camp Trek:
Considering the above expenses and factors, the total estimated cost of the Everest Base Camp Trek can range from $1,200 to $5,000 USD or more, depending on various choices and preferences made by the trekker. Proper budgeting, wise spending choices, and investment in essential services like travel insurance ensure a safe, enjoyable, and memorable trekking experience in the stunning Himalayas.
At Nepal Spirit Adventure, we are thrilled to offer you an unforgettable 14-day all-inclusive Everest Base Camp Trek at a competitive price of $1290 USD per person. Our well-crafted trekking package ensures you have a remarkable and hassle-free journey to the base of the world's highest peak, Mount Everest.
In conclusion, the Everest Base Camp Trek is a once-in-a-lifetime adventure that offers trekkers the opportunity to immerse themselves in the mesmerizing beauty of the Himalayas and stand in awe of the majestic Mount Everest. This comprehensive Everest Base Camp Trek Cost guide has provided valuable insights into the various aspects of the trek, from the introduction to the trekking permits, costs, and essential gear.
Preparing for the Everest Base Camp Trek requires careful planning, budgeting, and consideration of various factors, including transportation, accommodation, food, and trekking gear. Hiring guides and porters, as well as having travel insurance, ensures a safe and enjoyable journey.
So, if you are ready to embark on a life-changing journey filled with breathtaking landscapes, cultural encounters, and a sense of achievement, take the first step towards your Everest Base Camp Trek and make your dream a reality!